---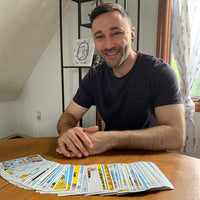 I offer 15 minute Tarot card readings live on Zoom/FaceTime.
I view the Tarot as a tool for guidance, self-reflection and gaining insight into a situation. I do not consider myself to be psychic or a medium. I tend to do a ten card Celtic Cross spread which will give us a lot to discuss concerning your question as well as provide insight into possible futures based on your current state of mind.
Our readings will be confidential, and though it is helpful to engage in a conversation regarding your reading, it is by no means required. The idea is to help you, so if you're comfortable sharing information as it arises in the reading, then we can dive deeper into the situation. But, you are also welcome to simply hear what the cards have to say, interpret it for yourself in connection with your question and not share anything if you wish.
Policies

Once a time has been confirmed, the reading will be considered nonrefundable.
If you need to reschedule, please contact me with at least a 24 hour notice (shiningmooninfo@gmail.com), otherwise the reading will be canceled and there will be no refund.  In this case, you may opt to pay a $10 fee to reschedule your reading.
I have the right to cancel a reading at any time, before or during the reading if I feel uncomfortable due to offensive language or inappropriate behavior.